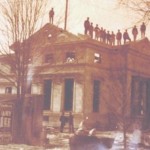 In 1901, Rachael Beckwith Moore, wife of Nathaniel Ford Moore, bought land in the village of Greene to build a library. Rachael's sons, William Henry Moore and James Hobart Moore spent their childhood in Greene and later became wealthy businessmen. Together they controlled a company that helped found the National Biscuit Company, later called Nabisco. They also controlled the Rock Island, Chicago and Pacific Railway. William founded the Diamond Match Company and four companies that were consolidated into the United States Steel Corporation. The Moore brothers donated $65,000 for the library construction and $65,000 for books and endowment. William's widow, Ada Small Moore, later left an additional $150,000 for the library's endowment fund. The Library came to serve as a memorial for William and James' mother, Rachael Arvilla Moore when she died in 1909 and today stands as a testimonial to the entire Moore family.
Construction of the library began in 1901 and the library opened on January 28, 1904. The building is built with Indiana sandstone and boasts stately Greek architecture. The marble pillars, brick foundation, intricate wood carvings on the inside pillars, tiled mosaic floors, and thick walls truly make Moore Memorial Library an impressive structure. The Cynthia Raymond Room in the basement of the library was dedicated in 1980. A local history museum is located on the third floor. An addition in 2007 added a new teen and children's area, computer lab, amphitheater and reading garden. The library was named by the first trustees of the library to honor the Moore family's generous gift to the village. Generations of villagers and visitors have admired and appreciated the majestic stone library, an august and beautiful reminder of the civic-minded Moores whose descendants still support the library through the Marion Moore Foundation.
In 1904, the library consisted of 7,500 books. Today there are more than 42,000 items.
| | | |
| --- | --- | --- |
| Mrs. Moore and son, William | Opening Day Resolution 1/28/1904 | 1916 Circulation Desk |
| 1912 Left side | Mosaic Tile Floor | 1912 Right side |